"Confronted with a challenge to distil the secret of sound investment into three words, we venture the motto, Margin of Safety."
Benjamin Graham, The Intelligent Investor.
Benjamin Graham was a founder of modern financial analysis. Today in Australia, Leithner & Co practices what he taught.
WHAT IS VALUE INVESTING?
A conservative, long-term approach to investment recognises that price is what is paid and value is what is received.
As followers of Graham, Leithner & Co conducts thorough research, provides reasonable safety of principal and an adequate return; and informs its shareholders half yearly, fully and plainly of its operations and results.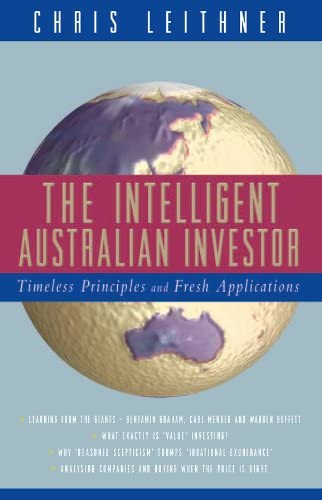 WE WROTE THE BOOK ON IT
In 2005, our Joint Managing Director Chris Leithner authored The Intelligent Australian Investor. This collection of timeless principles and fresh applications explains the importance of a careful, structured approach to investment in securing your financial future.
The problem is clear: few advisors, brokers and funds managers are now, or will eventually become, financially independent – never mind High Net Worth Individuals. They advise other people how to accumulate significant wealth, but they mostly haven't themselves.
What's most important isn't how much investors gain during the artificial boom; it's how much they avoid losing during the genuine – and inevitable – bust. Mind your "downside" and the "upside" will tend to mind itself.
How important are rankings of managed funds' results during the past 12 months? As an investor you should heed them in one respect only: use them to consider culling funds that have greatly "outperformed" or exclude them from consideration as new holdings.
During 2020, the world's banks and governments committed one of their biggest blunders of the past century. Their panicked reaction to COVID-19, in the form of an estimated $25-30 trillion of fiscal "stimulus" has created a colossal disconnect between prices of financial assets on one hand and the underlying reality on the other.
Successful investment isn't a matter of raw brainpower; instead, it's primarily the result of refined character – and particularly of stoic disposition. Indeed, many people – regardless of their smarts – repeatedly make basic financial mistakes. And those who are seemingly astute but certainly arrogant commit the costliest errors.
Henrietta Howland Green (1834-1916) exemplifies the practice of investment that Benjamin Graham pioneered in the 1930s, Warren Buffett has advocated since the 1950s and Leithner & Co has practised since 1999. She bought quality assets that others shunned, and during bull markets, when their prices rose unduly, she sold them with impressive growth returns.
DISCOVER OUR DIFFERENCE
We are a low-cost, low-risk company that seeks consistent returns. We levy no investment management fees and management receives only a share of realised profits.
OUR INVESTMENT PHILOSOPHY
We believe in creating wealth through value investing. We strive to deliver long-term consistent growth, underpinned by trust and transparency.
MAKE AN APPOINTMENT WITH ONE OF OUR DIRECTORS
Subscribe to keep updated on our activities.
Brand and Website by Brother & Co